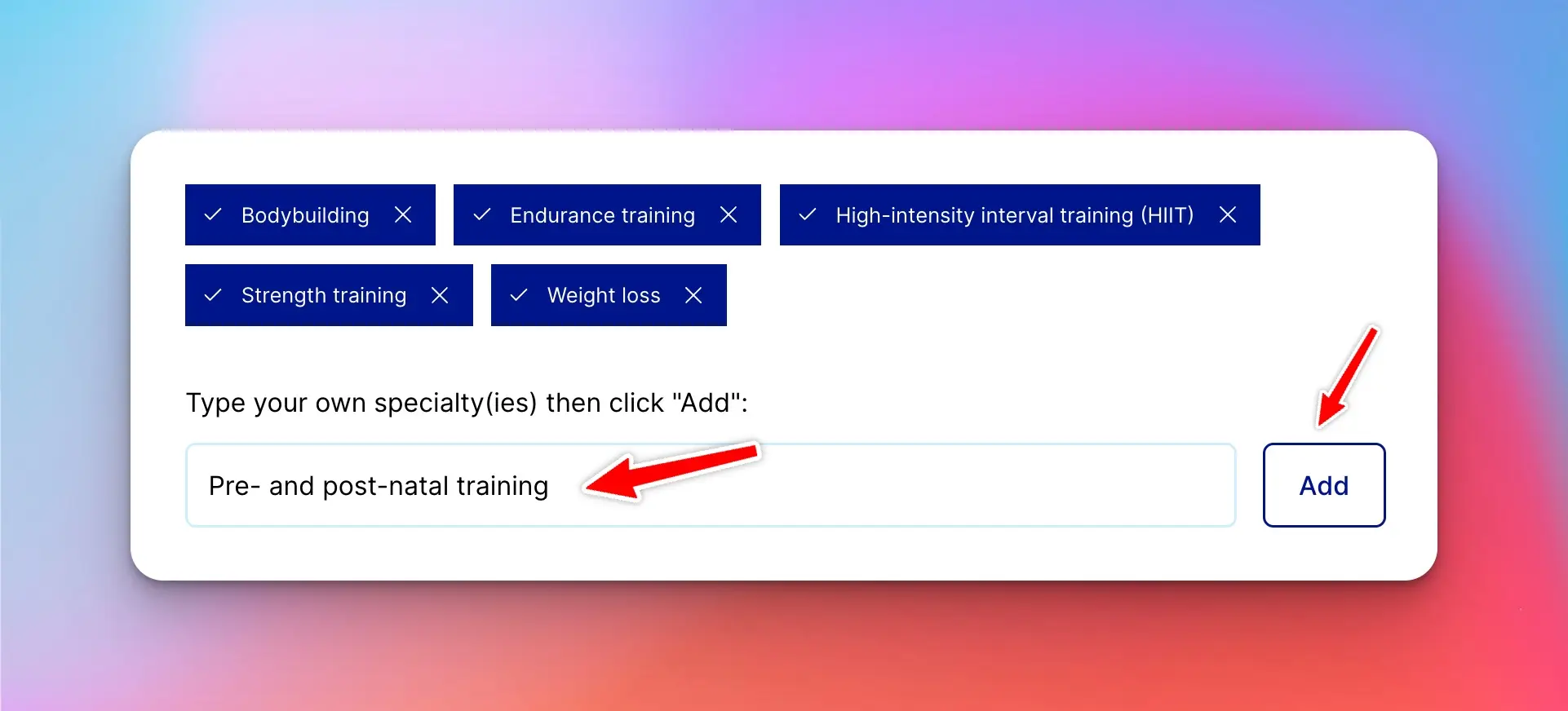 Showcasing Your Skills: How to Articulate Your Areas of Expertise
Highlight and showcase your professional expertise by detailing your specialties. Whether you're a personal trainer with a knack for sports-specific training or a yoga instructor specializing in hatha yoga, defining your areas of expertise can help potential clients understand the range of services you offer.
Introduction: Highlighting Your Expertise with Webfolio
In this section of your Webfolio onboarding questionnaire, we invite you to showcase your professional areas of expertise and specialties. This stage provides you a chance to set your brand apart by showcasing the unique skills and services that you offer.
Pre-determined Specialties: Selecting When Available
Depending on your sector of activity, Webfolio might offer a list of pre-determined specialties. If available, these predefined options cover a broad spectrum of skills within your field. You can select from this list those areas that best represent your professional knowledge and proficiency.
Customizing Your Expertise: Adding Your Specialties
Whether or not a pre-determined list is available, Webfolio always allows you to add your own specialties. This customization enables you to accurately represent your unique skills and expertise. By tailoring this section, you ensure your profile perfectly matches your professional identity and resonates with the specific needs of potential clients.
Precise and Comprehensive Descriptions: The Key to Client Understanding
When detailing your areas of expertise, precision and comprehensiveness are vital. The more accurately you articulate your skills and services, the better potential clients will understand the range of services you offer. An effective description not only attracts the right clientele but also sets clear expectations for fruitful collaborations.
Examples
Personal Trainer:
Weight loss
Strength training
Cardiovascular fitness
Senior fitness
Pre/postnatal fitness
Sports-specific training
Rehabilitation and injury prevention
Yoga or Pilates-based training
Nutrition and wellness coaching
Group fitness instruction
Yoga Instructor:
Hatha yoga
Vinyasa flow
Restorative yoga
Hot yoga
Power yoga
Yin yoga
Prenatal yoga
Yoga therapy
Chair yoga
Yoga for athletes
Electrician:
Residential electrical
Commercial electrical
Industrial electrical
Solar panel installation
Lighting design
Electrical safety inspection
Electrical code compliance
Electrical estimating
Electrical repair
Electrical maintenance
Plumber:
Residential plumbing
Commercial plumbing
Industrial plumbing
Drain cleaning
Water heater installation and repair
Sewer line repair and replacement
Gas line installation and repair
Backflow prevention
Pipe inspection and leak detection
Plumbing code compliance
Baker:
Cake decorating
Pastry chef
Bread baking
Gluten-free baking
Vegan baking
Artisanal baking
Custom cake making
Wedding cake making
Specialty dessert making
Savory baking
Hair Stylist:
Haircutting
Hair coloring
Hair extensions
Hair styling
Bridal hair
Men's hair
Barbering
Curly hair
Hair loss solutions
Wig styling
Ultimately, this is your chance to shine and showcase what makes you stand out in your field. The more specific you can be about your skills and areas of expertise, the more you'll stand out to potential clients.