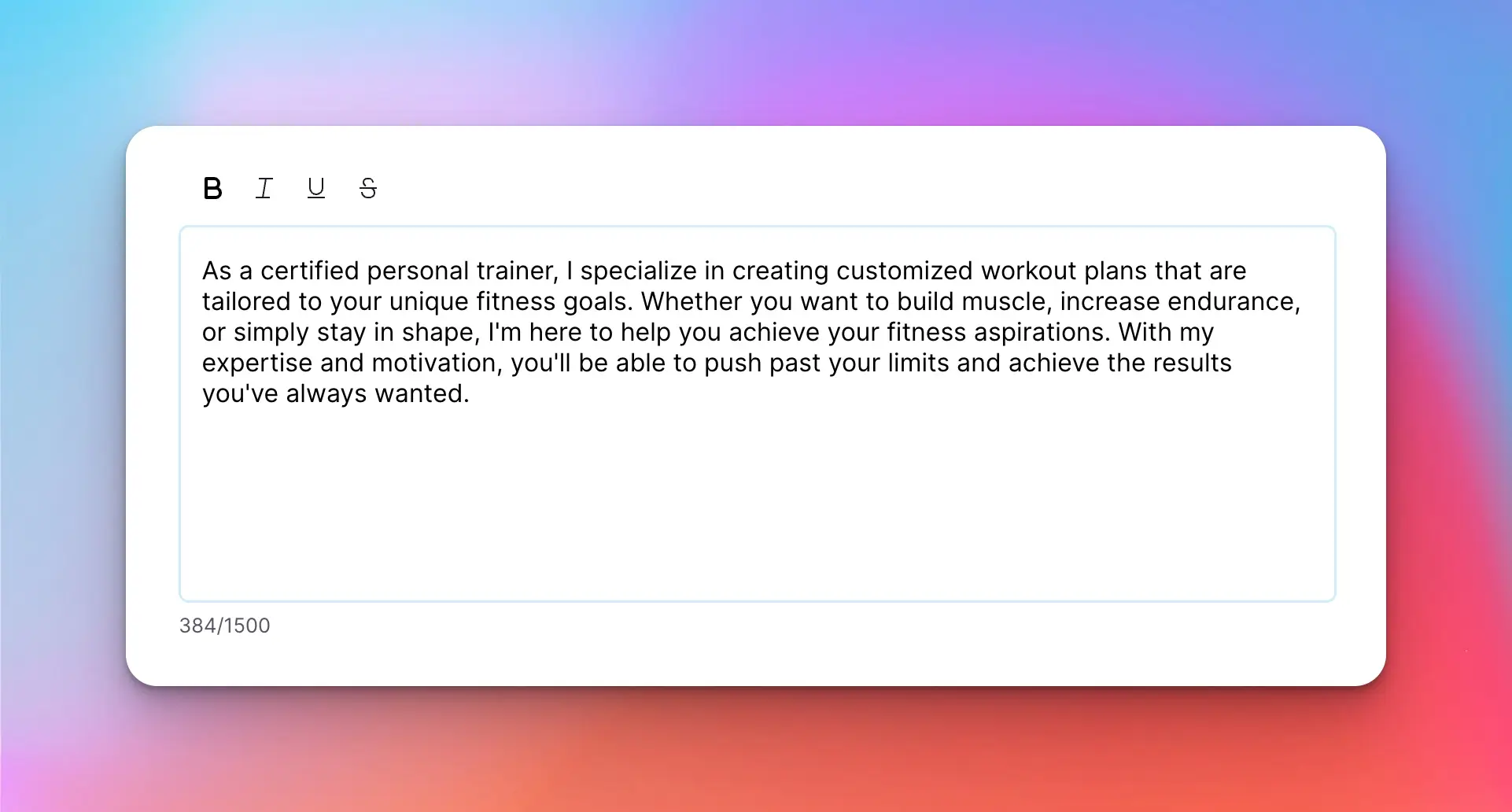 Crafting Compelling Descriptions for Your Business Services: A Webfolio Guide
This guide provides you with practical tips and diverse examples to help you write compelling descriptions of your business services and specialties. Discover how to showcase your unique offerings and professional background effectively to engage your website visitors and potential clients. Make your business stand out with Webfolio.
Writing engaging service description
To communicate the value of your services effectively, we strongly recommend starting with a succinct yet comprehensive introduction. This introduction should offer a clear snapshot of the service you provide and outline its key elements, giving your audience an immediate understanding of what they can expect.
Highlighting what differentiates your services from others in your field is also essential in this introduction. By emphasizing the unique features, the effectiveness of your approach, or the innovative methods you use, you help to pique the interest of potential clients and to position your offering favorably in their minds.
Another important element in creating an engaging service description is to incorporate your personal narrative. Sharing relevant experiences, your professional journey, or the motivations that led you to become a specialist in your field adds a human element to your description. This personal touch can help foster trust and establish a connection with your audience. It also offers a context that may underscore your expertise, dedication, and passion, making your services more appealing.
Keep in mind that your goal is to resonate with your target audience. Use language that they can relate to and present information in a manner that addresses their needs or concerns. A well-crafted service description is not only informative but also persuasive, driving potential clients to choose your services over others.
Examples for inspiration
"Being a certified personal trainer, I specialize in creating customized workout plans tailored to your individual fitness goals. Whether your aim is to build muscle, increase endurance, or maintain your fitness level, I am here to support you in surpassing your limits and achieving desired results."
"As a certified yoga instructor, I dedicate myself to help individuals discover inner peace, balance, and strength through yoga. Specializing in Hatha and Vinyasa yoga, I strive to create an inclusive, welcoming environment for all experience levels. With my guidance, you can deepen your practice, nurturing tranquility and mindfulness that will benefit both your body and mind."
"As a licensed massage therapist, I am passionate about delivering rejuvenating and therapeutic massage experiences. Whether you prefer deep tissue massage, Swedish massage, or another modality, I am committed to using my expertise to offer a tailored massage that fits your needs. My healing touch ensures that you'll leave feeling revitalized and refreshed."
"Whether you're striving to improve your business or personal life, our services are designed with your success in mind. Ranging from coaching and training to consulting and project management, our dedicated team is committed to helping you excel."
"As a graphic design agency, we're experts in creating visually captivating and functional designs. We offer services that span logo design, branding, print materials, web design, and more. Our meticulous attention to detail ensures that we can accurately manifest our clients' visions."
"Our cleaning services aim to simplify your life and enhance your environment. We offer a diverse range of services, including regular cleaning, deep cleaning, and specialized cleaning for move-ins and move-outs. Our experienced team guarantees a spotless, refreshing space for your enjoyment."
"As a marketing agency, our services span digital marketing, social media management, branding, and advertising. Our industry expertise and experience are the keys to helping you engage your target audience and achieve your business goals."
"Our consulting services cater to businesses across various sizes and industries, aiming to optimize operations and achieve business objectives. Our team of experts spans areas like finance, marketing, human resources, and more. We collaborate closely with our clients to understand their unique requirements and develop customized strategies for success."
"As a skilled hair stylist, I provide personalized and high-quality hair services. Ranging from haircuts and styling to coloring and extensions, I offer tailored services to match your individual needs and preferences. My expertise and attention to detail ensure you'll leave my salon feeling and looking your absolute best."